NEWS & EVENTS
Bangkok Re-Open and Chao Phraya Property Developments
They are following the series of Thailand re-opening to the world to stimulate its economy and have a good end of the year for tourism to rebound. The government is expediting with caution to re-open all of the countries to tourism. This is a huge milestone to embark on the journey for Thailand to re-open. However, there are still many roadblocks on the way, such as if Bangkok is not going to re-open yet, then is the whole country still in deadlock. Especially with the property market, developers need to look into Bangkok to calculate and launch more new projects. 
The prolonged pandemic has caused many disruptions all around major cities in the world. For some major cities, the pandemic affected their financial hub or exports hub. For example, for Thailand and Bangkok, the pandemic has entered two significant sectors that contribute massively to the country's GDP: tourism and real estate. 
Since the government has lifted some lockdown restrictions of central Bangkok to live with the virus, then to defeat the virus presently. As lockdown restrictions eased, tourism and real estate packages and news outlets came to support the economy, and it could cause some information paralysis for investors and potential buyers. We will collect top real estate stories in Bangkok about real estate to explore the future of the Bangkok property market and which development to look out of, especially development near Chao Praya River. 
Investors Update: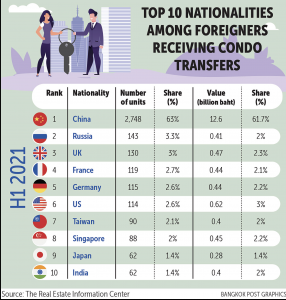 Currently, in Bangkok, they are significant hiatus in launching new projects. Bangkokpost.com, 2021 has been the lowest year in which Bangkok saw the most decrease in new projects launches. Since 2008, a reduction of 40% since the pandemic started, no new projects have launched. As previously stated, on the other hand, no new launches are a good cycle. For once, Bangkok is transferring unsold units to foreign investors. Investors from China and Hong Kong have seen the most transfer of ownership during the first half of 2021. Chinese request in condo units still amounts of also half of the investments into real estate in Thailand. Other countries amount of the rest are from Russia, United Kingdom, Germany, France, etc. 
New Foreign Ownership laws:  On the other hand, land ownership and warehouses are getting more recognition in Thailand. The Thai government is making some amends to foreign ownership laws for investors. They will be long-term visas targeting wealthy ex-pats. In the new amended ownership act, Thailand is targeting four types of ex-pats and investors. 
The first groups are wealthy global citizens, high-income earners (roughly 80,000 USD annually for two years), and travel frequently. They are required to invest 500,000 USD in real estate or government bonds. 
The second groups are wealthy pensioners, which are aged 50 and above. The requirements are 250,000 USD directly to government bonds and in real estate.
Third group is investors who want to or can work remotely in Thailand. The third group requires to target remote workers from established companies who are financially secure. Finally, the third group is for digital nomads. 
Fourth group is for skilled professional workers, mainly in the digital industry. The fourth group consists of researchers, analysts, and digital technical creators who want to work in universities and state-owned companies. 
The new laws also target ownership of land and property. Increased ownership of land, property, and business for foreigners is essential. Up to recently, foreigners could not own land except married Thai women or set up businesses. But having control and owning land and businesses in Thailand does embark on a new start-up culture that Thailand Gen Z and SMEs are targeting until 2030. 
Presently, the new ownership was amended but postponed to October 15, 2021. Even the re-opening of Bangkok is delayed as well to October 15. It is because the government did not want to rush and open Bangkok as of yet. Other cities are still on plan to open for international travelers and local travelers too. These cities are: Phuket, Koh Samui, Pattaya, Hua Hin, and Chiang Mai. The reason why Bangkok re-open was postpone caused for quarantine requirements. To earn travelers' and investors' confidence is to eased quarantine requirements and decrease the price of PRC testing to travelers for business or leisure trips.
Target Groups: Wealthy Global Citizens and Gen Z
By reading through and going through new long-term ownership laws, it can be categories into three types of investors: wealthy citizens, digital nomads, and first-time buyers (Gen Z). For one, you can see that Thailand's new data marketing tool is in the working. Because now condominiums and their facilities are calculated targets to the demographics of investors developers wants. Thai property developers are targeting specific groups to make a rebound in the real estate market. 
But on the other hand, Thailand neglected middle-income investors and buyers interested in Thai property as well. As Bangkokpost.com stated, middle-income investors from China and Hong Kong generate most online booking and sales during the first half of 2021. But not all are in the three categories as stated above, but around 20 percent are there to start businesses. Therefore, we Will look below at properties that target wealthy, middle-income, and Gen Z investors, especially at Chao Praya River developments because of their historical significance in Thailand.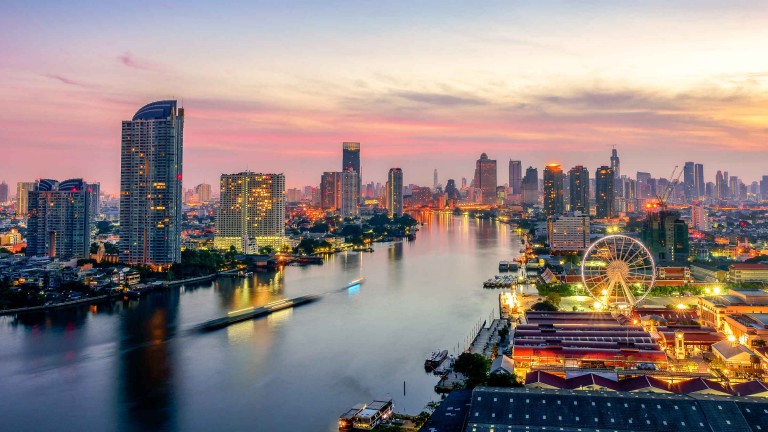 Chao Phraya River Developments  As reported on Bangkokpost.com, many new projects are not launched into the CBD of Bangkok because of the new waves of buyers looking into new requirements. For CBD new project launch will cover segments of luxury condominiums to target wealthy ex-pats. Projects outside the CBD area for investors looking to start businesses or for rental yields. Chao Praya River area covers a vast area in Bangkok but does not cross over to the CBD area of Bangkok. 
Sena Development has targeted the Chao Praya area for its new project. The site is revamped because of the luxury shopping mall IconSiam. The area is part of old Bangkok, which covers many hospitals because Thailand is in the top 10 of medical healthcare. Sena Development of Sena Niche Itsaraphap. Outside of the entire city life, into the robust residential area of Bangkok. Sena Niche's target is middle-income investors looking for long-term investors for rental yields and the resale price. Prices start from 1.6 million THB. The facilities accorded is to have a balance between work and well personal life. Located near Chao Praya River gives it has good rental yields because of the view and the proximity to hospitals and shopping malls. 
Supalai Icon Siam is a new project launch along Chao Praya River to target wealthy and global investors. Supalai Icon Siam is a high-rise building, but not a high-rise building where rooms and people are close. The new project targets wealthy investors looking for a second home, with spaces in the room privacy within each floor. The room size starts from 34.5 square meters to target remote working wealthy investors. Price starts from 9 million THB up to 112 million THB. Supalai Icon Siam primarily targets the new ownership law that the Thai government amends for foreigners to control their assets.
Gen Z/First Time Buyers 
A new target group of property developers in Thailand. Pre-pandemic Thailand has targeted wealthy investors, but also mainly projects in the city. But now, with healthy and privacy at the forefront of buyers, developers have a change of direction. Central Real Estate, or CRC, another SET-listed company, launched the new mixed project in the Don Mueng area of Bangkok. The site is outside of Bangkok, and if Don Mueng sounds familiar because it's nearby Bangkok domestic and low-cost airline international airport. In addition, public Transportation of new train lines helps expedite new property outside Bangkok and easy travel into the city center. The target to created mix-housing projects is for Genz, who adopted the concept of work from homes, such as three days in the office and two days at home.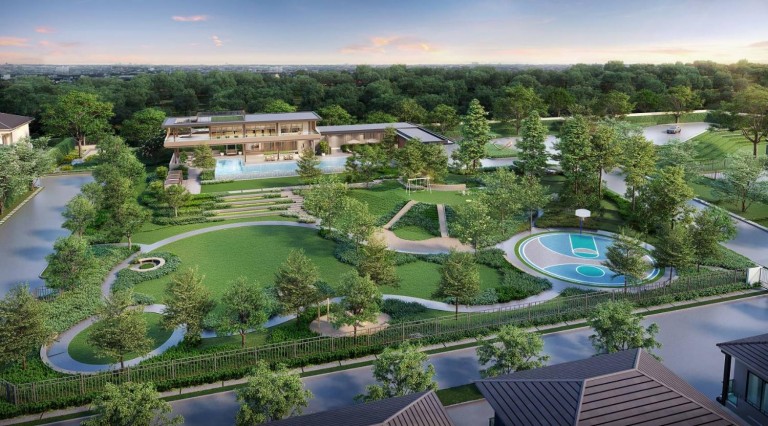 Thus, the requirements to have mixed housing projects of low-rise condominiums and single houses. As CPN wants to target Gen Z, locally and internationally, prices start from 1.85 million THB. The concept of mixed housing projects with community parks and outdoor sports centers to lure in investors. The attention to parks, exercise, and health, is on everyone's minds, thus create a new direction for developers to adopt a new health caution development with exercise and sports on everyone's mind. Lastly, the project is nearby Don Mueng Airport, for easy travel to target investors from China and Hong Kong whom for one to investors in Thailand for rental yields but to create e-commerce business in Thailand. 
What the future looks like in the Thai real estate market is to buy and hold. The market would see a rebound in 2022, but by the time you visit your profits, yields will end in 2022. Prices of real estate might not increase, but new projects launches would create more supply and demand. Lastly, the future of new developments is outside of the CBD area of Bangkok, with new mixed-housing projects of foreigners to own and control their investors and assets in Thailand.